A strategy proven to work effectively over the years, giving out bonus offers has been a sensation to casino betting. Naturally, the latest casino sites have come aboard. They're now offering thousands of bonuses of all types. Casino players have also joined the trend. They're redeeming these offers and winning substantial amounts of money from them.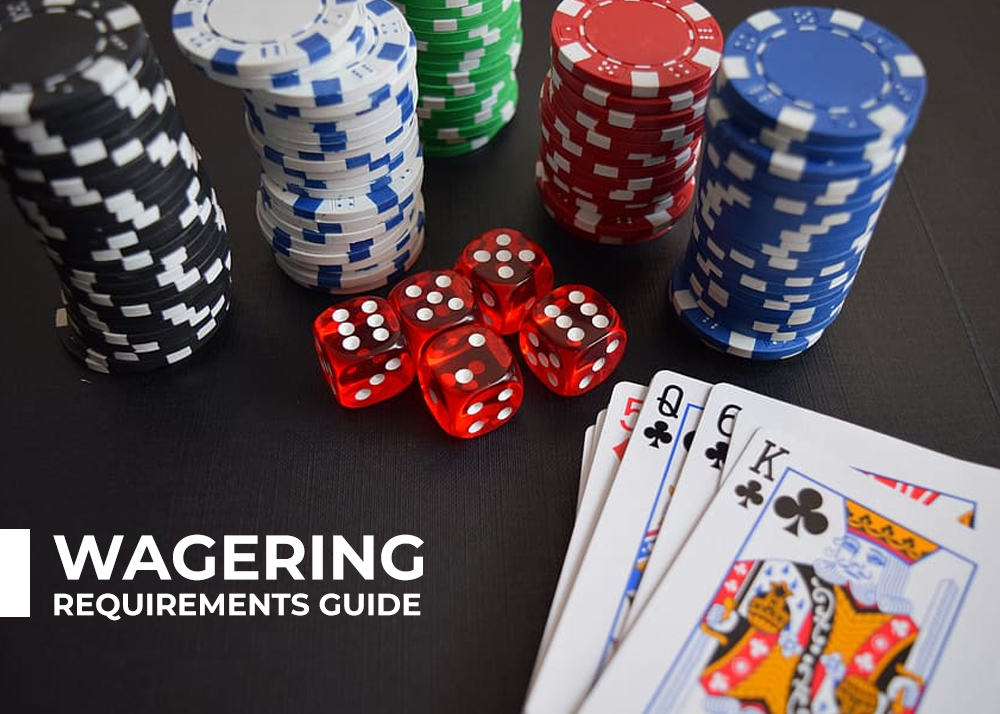 And although they're all different, all these UK casino bonuses have one thing in common: wagering requirements. Players loathe these stipulations; new casinos love them. Wagering requirements, for a long time, have been an enigma. Most players don't understand how to clear them.
In the guide below, we'll explain how wagering requirements work, and how you can complete them.
What are wagering requirements?
In simple terms, wagering requirements are conditions casinos employ that guide players on how many times they need to play through a bonus bet before withdrawing their winnings. Also known as playthrough requirements, they can either be in the form of minimum withdrawal constraints or minimum wagering stipulations. Casinos can attach these requirements on either free spins, matched bonuses, or cash payouts.
Why do casinos have wagering requirements?
Wagering requirements exist to ensure players don't make away with casinos' bonus offers. They're designed to protect the interest of casinos. And their interest is, of course, to make more money.
In the early days, when sites hadn't developed their systems, players registered in casinos, redeemed their bonus offers, withdrew, and walked out with free money. These crafty players would then repeat the process with different casino sites. Since then, casinos have introduced more enticing bonus offers, but have gradually implemented tougher requirements. Needless to say, this change has led to players wagering on bonus offers appropriately.
How do wagering requirements work?
Let's say you sign up to a best casino site that offers a 100% matched deposit bonus offer. You then proceed to deposit £200. You'll, therefore, receive an extra £200 to wager on. But you can't just withdraw this extra cash, it's not that easy. And now here's where wagering requirements come into play. Most new casinos' stipulations range between 25x and 45x.
In this case, let's go with 30x. If you want to cash out from your bonus, you'll have to wager 30 x £200 = £6000. This equals to bets worth £6000. In some sites, you may be forced to wager on your deposit plus bonus cash. So, assuming you received the extra £200, you'll need to wager a total of 30 x £400 = £12000.
That said, wagering requirements aren't always the same. It's always advisable to thoroughly scrutinize a company's terms and conditions before wagering on any bonus offers. Otherwise, you may be in for some unwanted surprises.
Trustworthy casinos display wagering terms on their main page, but you can't always be sure about that. Some casinos bury such information in the furthest corners of their sites, where you'll spend a lot of time trying to find the terms.
Are there casinos that don't have wagering requirements?
On rare occasions, you may find bonuses with no wagering requirements. This means that you can bet with the bonus offer, and if you win, you can withdraw your earnings instantly. But what's the catch? Well, as we've stated earlier, casinos don't just give out free money. To compensate for the lack of wagering stipulations, these casinos enforce limits to winnings, such that you can't withdraw your earnings if they're above a certain amount.
These kinds of offers are too attractive to pass up. In the rare event you find one, try your luck and maybe you may make some decent cash.