If you love card games and want to take-a-dip in online gambling, blackjack is the thing for you!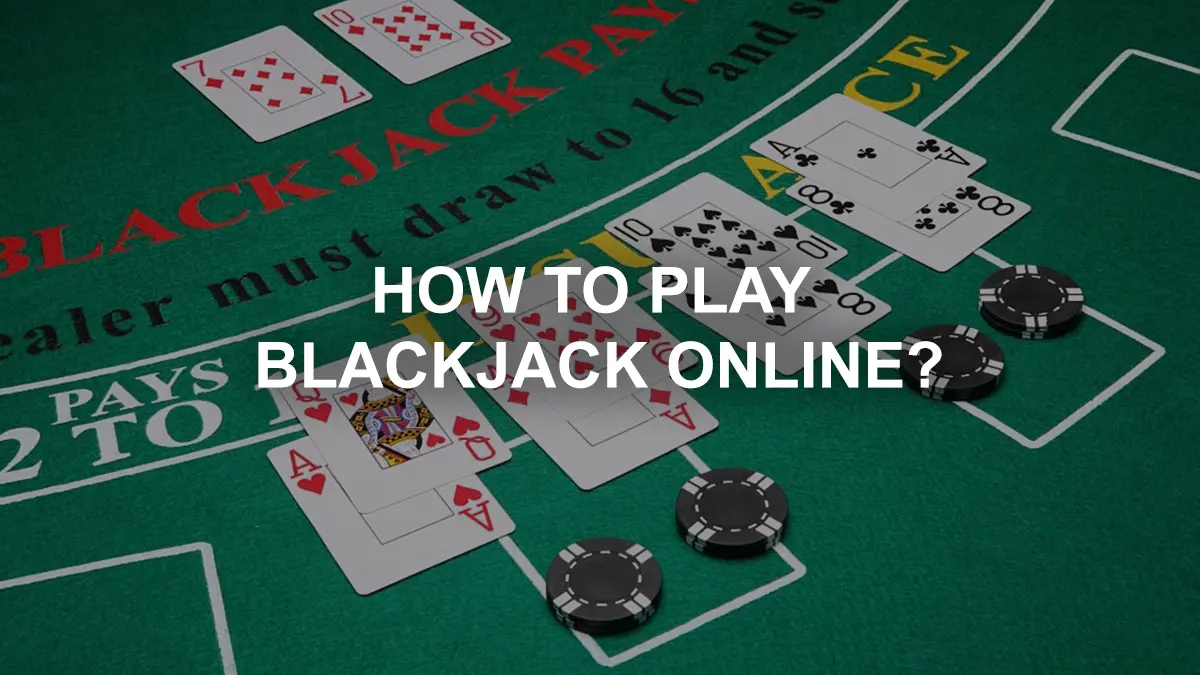 Blackjack, a North American game, also known as '21', is one of the most popular casino games in the UK and worldwide. It has been played for more than a century now. It's a game of skill, and those who understand the strategic element can profit over time.
Playing blackjack online is far more lucrative than the brick-and-mortar casinos. You can play it at the comfort of your home, at your convenient time, and enjoy the signup bonuses (usually adding 10% up to 70%) given by various online gambling sites to boost your initial bankroll.
So, if you are eager to learn about playing blackjack online, read ahead!
Understanding The Basics of Blackjack
Blackjack may look like a simple table game, but when you are new to playing it online, try not to start betting high stakes at the opening. Before you sign-up with any new casino online, please look at the gameplay basics, its rules, and strategies.
You have one objective in the game – Beat the dealer!
Like land-based casinos, even if you play with other players online, you never compete with them as you do in poker games.
It's always the dealer!
So, how do you beat the dealer?
You can beat the dealer in 3 ways:
When you draw a hand value higher than the hand value of the dealer
When the dealer gets a hand value over 21
If you get a hand value of 21 on your first two cards and the dealer doesn't get the same.
The dealer can beat you too!
If your hand value exceeds 21 or the dealer gets a higher hand value than yours at the end of the game, you lose.
You have a conventional deck of 52 cards in blackjack (minus the joker). Don't bother about the suits. You calculate hand value in three parts:
Face Value: It is all cards from 2 to 10, i.e., a 2 has a hand value of two, and nine counts as nine.
The Tens: These are the face cards like Jack, King, and Queen (J, K,&Q)
The Ace: The card can be considered as 1 or 11 depending upon the value that helps the hand most.
If you have a hand value 21, it is a blackjack. Congratulations!
It's a shape of a half-oval table similar to what you will find in a real-world casino. The dealer stands on the straight part of the table, and players sit on the oval side. Most tables have seven players, but some tables allow five or even twelve players.
As a player, you can find a betting rectangle or circle in front of you to play the game. Now, if you see on the dealer's left side, there is a shoe with a deck-of-cards for dispensing the next card. Most shoe deals, 6-decks or 8-decks of cards in blackjack, and the online blackjack version, most casino websites shuffle the cards after each hand.
You will find the casino chips rack in front of the dealer and on the right a stack of discarded cards. Each chip colour determines its denominations.
The most common values to chip in casinos –
White – £1
Red – £5
Green -£25
Black – £100
Purple – £500
Orange – £1,000
At the beginning of the game, two cards get drawn, and the dealers distribute them to each player in the clockwise direction. The player who sits nearest to the dealer's left side is – first base, gets the card first. Those players, sitting on the right-hand side, are third base and get the cards in the end.
Both of your cards face-up while the only one card faces up for the dealer. The middle part of the table contains –
The signs of blackjack rules 
Blackjack pays 3 to 2: It means you get £3 for every £2 you wager.
The dealer will draw on 16 and stand on 17: It means the dealer will take another card when their hand value equals to or is less than a hard 17. 
Insurance pays 2 to 1: It's a side bet when the dealer has a 'Ten' hand value card on the face-up side in the starting deal. It's insurance against the dealer if they get blackjack and helps you to conserve your losses.
However, it increases the house edge, and if the dealer does not get a blackjack, you lose your chance to get paid 3-to-2, as you get paid 2-to-1 only.
Quick Tip: Stay away from the 'Insurance' in the online version at all times, as it slims your chances of winning in the long-term. 
If you are going to play blackjack online, familiarise yourself with the terminologies for the game.
Bust:  When you have a hand value over 21.
Hit:  It's when the dealer approaches you, and you want to add another face-up card to your hand.
Stay: When your turn comes, you choose to stay with your current hand.
Fold: At your turn in the game, you decide to remove yourself because you know you will lose.
Soft Hand: It signifies you can draw another card without breaching 21. It invariably contains an Ace, and it fluctuates between 1 and 11, whichever favours your hand.
Hard Hand or Stiff Hand: It's when you already have a high-value hand, and the next draw can tip over the edge leading you to 'bust.'
Push: When both you and the dealer have the same total. In 'Push,' you end up keeping your bet.
Soft 17: It's a hand that has an Ace and any card between 2 and 7.
Natural: When you get your two-cards deal, and the value totals precisely 21, you win automatically, getting paid 3-to-2.
House Edge: It's the amount that you can lose if you play for a long. Compared to land-based casinos with a 5.5% house edge in blackjack, it's around 0.4% to 0.5% in online casinos.
That makes the payback or return to player (RTP) percentage around 99.5% to 99.6% for online blackjack. 
It sounds brilliant, isn't it?
Types of Blackjack Games
Before you begin playing blackjack online, learn about its various types of blackjack games and how they differ from each other.
The traditional version of 21 follows the basic blackjack rules of 3-to-2, while the dealer stands on 17. Beginners, go for it! 
In this type of blackjack, you can play multiple hands going at once to get more chances of winning.
Mostly, casinos use six to eight decks for blackjacks, but you can play blackjack with one deck and the same classic blackjack rules.
You get dealt with face-up from six decks in this type, and you play with two hands. In it, you have to place equal bets for both of the hands. Moreover, you can switch only the second card (the top-card) dealt with each of the hands, but you cannot do so with the first card from one hand with a second card from the other hand.
It follows the same rules as classic blackjack, but you have a side bet with a progressive jackpot. It makes the eventual payout from a winning hand even more extensive than the basic blackjack payout.
Blackjack Betting Rules
You place your bet based on the strategies you want to follow, keeping in mind the dealer's cards (both face down and face up). Here are some betting rules
Blackjack Hitting Rules: You use this rule to ask the dealer to give another card to your hand. In online blackjack, you press the 'Hit' icon.
Blackjack Standing Rules: It signifies you are satisfied with the first hand dealt and don't want another card. In online blackjack, you press the 'Cross' icon.
Blackjack Pair Splitting Rules: If you get two cards of the same value (like a pair of 6s or aces) in the first dealt, you can split it into two separate hands by placing a bet of the same value. You play each card in separate hands like multi-hand blackjack, to draw more cards.
However, if you split aces, most casinos will allow only one draw card to each of them. You press a 'two-card' icon for using this bet.
Blackjack Double Down Rules: It's an option where you can double your original bet, but you can do it only after getting a one-card hit.
Avoid using this option if you are a beginner, as it's highly-risky!
Surrender Rules:  It's the option where you accept to give half of your bet and fold after getting the first two cards but before splitting, doubling down, or hitting again. Go for an online casino that allows you to surrender after a disadvantageous deal. 
It's an excellent strategy to lessen your losses!
If the dealer has a blackjack hand, they might not permit you to surrender, and it raises the online blackjack house advantage further.
Dealer's Playing Rules: The blackjack dealer has no playing option, but their cards determine your playing strategy. In the UK online casino version, the dealer must stand on 'soft 17', which means to value 'Ace' at stand as 11 instead of one. It goes in your favour to bust the dealer.
Quick Tip 1: In online blackjack, always go for the version where 'the dealer must stand on soft 17'.
Quick Tip 2: Avoid those online blackjack games that restrict your splits and double rules. Restrictions go unfavourably for you!
How to Get Started Playing Blackjack Online?
Before joining any legitimate, licenced online casino, read the information on the site regarding
the options to transfer the money
the minimum deposit requirements
the type of new customer bonus/reward you are entitled
the minimum play required to obtain the bonus
Steps to Start Playing:
Go to the licenced online casino website of your choice.
Click on "join now." It will take you to the registration page.
Fill the details on the registration page like

Your first and last name
Date of birth
Email address
Residential address
Phone number
Any other relevant information for smooth payout

Submit the form. If you have got any sign-in bonuses, claim them during this signup process.
After your email verification, you can create your username and password.
Congratulations, you have joined an online casino! Now make your deposit and start playing blackjack online.
Blackjack Strategies
Managing a bankroll is essential even if you play regardless of the blackjack strategies you apply to your games. If you are a beginner, try some free games online first, then choose a real money blackjack site to play.
It's the best strategy for beginners as it follows logic. The moment you get the two-cards, and the dealer opens one of their cards, giving you choices like
Stand
Hit
Double
Split
Surrender
If your card's total hand value comes close to, say – 20 points – Surely you will not 'Hit.' 
Similarly, if it's worth five points, you will not choose to 'Stand'; you need more hits to get a chance for having a blackjack (21 hand value).
In this strategy, you assume that the dealer's hidden card has a value of 10 and makes your decisions to hit or stand based on it. Refer to the blackjack strategy table, a simple-to-use guideline that calculates your winning odds combined with the dealer's open card.
You can download the blackjack cheat-sheet (free download) and print it for your easy reference. It is 100% legal, and you can use it to play online or at a brick-and-mortar casino. However, when you are playing blackjack online, you get plenty of time to check it and reduce the house edge.
Conservative Blackjack Strategy
It's better to start with a conservative approach till you find the right way to the top bets. But play high-stakes games only when you have sufficient money to spend on online games.
In short, 
Start with the lowest bet (e.g., £1), and increase it by 1 unit only after you win.
If you lose, return to your original bet.
By following this strategy, you get better control of your money and fold when you want. Remember, blackjack is a gambling game, and there are no definite patterns of winning or losing.
Moreover, in online blackjack, the computer-generated cards follow a random number generator (RNG) rule leaving you winning mostly on chances.
Check the RTP percentages before sign-in. 
It is a blackjack strategy for big spenders!
It sits on the opposite side of the spectrum for players who play with a lot of money, can afford to lose a lot, and don't fear a swing of losses.
 A beginner must avoid playing such high-stakes and following martingale strategy!
In Martingale strategy, the rules say – 'double your bet every time you lose.' The rationale behind it is, you need only one win to go back and recover all your losses in one hand. You see – it can be quite expensive if you have a losing streak!
Whichever strategy you play, avoid these classic mistakes –
Not Standing on 12 Against a 5: It's a case when you have a 12, and the dealer has a 5. 
Remember, the dealer has to hit at least two more times!
Therefore, don't risk busting yourself when the dealer has a weak hand. The best strategy would be to stand and hope for the dealer to get bust.
Not Hitting on 16 Against a 7: It's when the dealer face-up card shows 7. You assume the face-down card as a Ten (making a total dealer hand value 17), so your best option would be to hit and hope you beat the dealer's total.
Does Card Counting Work on Gambling Sites?
No, it does not work as in most online sites. The cards get shuffled after each hand. But, do check the gambling website's instructions/rules for card shuffling. If some site reshuffles after dealing 50% (or more) of their cards, then card counting can work, giving a slight edge.
Are They Safe and Fair?
Most reputed gambling sites have high-end protection software to prevent hacking. But always go for a licensed and independently audited (by a company like eCOGRA) online casino websites to play a safe and fair game.
Avoid playing on sites that are not listed on the Malta Gaming Authority (MGA) and the United Kingdom Gambling Commission (UKGC).
Blackjack Tips to Win
Don't start with betting real money on your first hand of blackjack if you are not clear with rules, terminologies, types, and strategies.
Here are a few more tips for your reference:
While playing online blackjack, don't spend money on insurance.
Always check the house edge and RTP percentages before you choose to play online blackjack.
Memorise the list of rules like "always split aces and eights" or "double on 11."
Get a blackjack strategy chart that connects every card value a player has with that of the dealer's hand and use it.
Set a budget and stop playing if you hit your lower limit.
If you have a win, click on the payout and take a break or end your session.
Always choose the blackjack games with the 3:2 payout, especially when you are new. It's a more intelligent choice compared to the 6:5 payout blackjack games.
Conclusion
Play blackjack responsibly with a set budget on legitimate, licenced online casinos. Never gamble while being under the influence of any alcohol or drugs. All you need to do is read the website instructions, base your betting decisions on basic blackjack strategy, and pick a bet that suits your bankroll.
After all, you want to enjoy playing blackjack online, so follow the tips and protect yourself from having an addiction to gambling.
You may also like: How To Play Roulette