What is slot volatility?
Contrary to what many players believe, slot volatility is an easy concept to grasp. It tells you the level of risk involved in playing a particular slot game. Players can use it to find games that either pay out higher amounts at lesser frequencies or games that payout lower amounts at higher frequencies.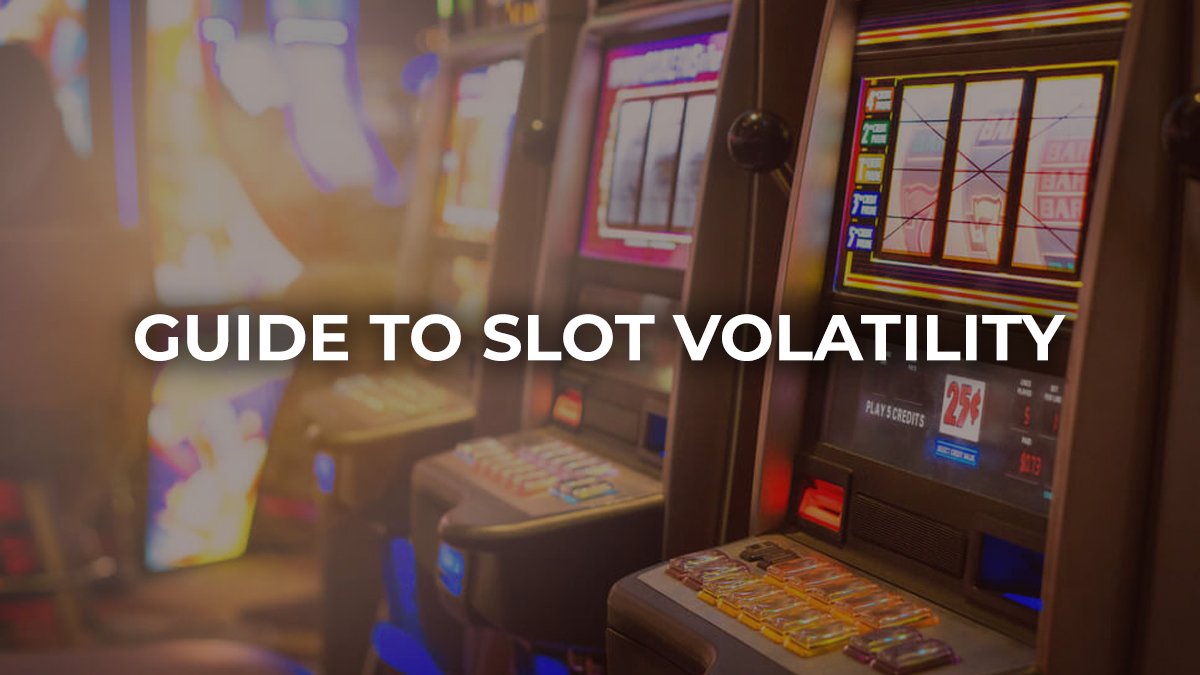 As we'll see later, slots are ranked according to their volatility. Low volatility slots pay fewer amounts but do so more consistently. On the other end, high volatility slots payout once in a while but promise huge rewards, if you're confident enough to try them
Understanding slot volatility allows you to make better decisions when gambling. With such information, you can place well-thought-out wagers, incorporate more patience in your gaming, or become more aggressive depending on a slot's volatility level.
What's the difference between variance and RTP?
To get better returns, you need to familiarise yourself with the RTP rate. Also referred to as the payback percentage, RTP is the percentage of money that a slot machine returns to you as winnings, after your bet lands. Higher RTP percentages equal to more winnings.
Casino operators publish this RTP information publicly on their sites, so don't have to jump through hoops when selecting gaming title. The problem, however, is that operators measure RTP in the long-term.
What does this mean? A slot offering favourable returns in, let's say, 500 spins might not be suitable for a player who has less than 50 spins. And that's where slot variance comes into the scene.
Variance, compared to RTP, has a bigger impact on your gaming. As we've mentioned earlier, volatility affects how much you win and how fast you deplete your bankroll.
For the best results, use variance and RTP hand-in-hand, before deciding on a slot game. While they might not reveal exact figures, they offer you crucial information that can help you preserve your bankroll. RTP allows you to find suitable slots. Variance, on the other hand, helps you come up with a strategy and set up your bankroll.
What are the different slot volatility levels?
Generally, slot machines have two levels of volatility: high and low. You should note, however, that two different slots rarely ever have a similar level of volatility. This is because every slot is designed to give you winnings at different rates and time.
Low volatility slots
In simple terms, slots with low-volatility pay you more frequently and have higher RTPs. While the payouts may be limited, you might get a few wins with just a few spins. Often, these payouts may be enough to keep you hooked on the game.
Low-volatility jackpot slots offer lower amounts than their high-volatility counterparts as they are less riskier. With these jackpots, you might not walk away with a life-changing amount, but you're more likely to have a win after some consecutive spins.
What's better is that some reputable low-variance jackpot slots offer attractive wins. In such games, if you can get about 25% profit on your starting budget, then you can consider it a good day's work.
Let's say, for instance, you have a bankroll of about £50. You might go on a losing streak losing but then get a payout of about £15 and you've topped up your balance once again. If at the end of the day, you have about £55 you can leave your bankroll as it is.
Low-variance slots cater for slot fans who aren't willing to spend a lot of money, and only want to play for short periods.
Pros of low-variance slots
You get more frequent wins.
You can manage your bankroll better.
You don't have to go through constant emotional swings.
The results match the RTP better.
Cons of low-variance slots
You get smaller wins.
Lesser jackpot amounts.
You get lower bonus features.
Some popular low volatility slot games include:
Explosivo by Thunderkick
Bloodsuckers by NetEnt
Starbust by NetEnt
Wild Scarabs by Microgaming
High volatility slots
Most experienced gamblers prefer these types of slots. High volatility slots cater for players looking for wins of about 100x or more their betting amounts. In these games, you have to tread lightly and manage your bankroll better as it's possible to win nothing after various spins. That's why it's more suited for experienced gamblers.
You might go on a run of about 100 spins without earning anything, and when you win you only get compensation for about 20 of the 100 spins. On the flip side though, you stand a chance to win some life-changing amounts.
Playing high volatility slots requires a heart of steel as you'll be going through a wide range of emotions and making risky decisions constantly. You need to weigh the benefits and drawbacks of these blood-pumping slot games, so you can know whether they suit you.
Pros of high volatility slots
You can win huge amounts of up to 1000 times your initial bet.
Jackpots pay massive amounts.
The bonus features pay highly.
Cons of high-volatility slots
Low pay-out frequency
Bankroll management is more difficult
Causes lots of emotions.
Best high volatility slot.
Our top picks for high volatility slots include:
Dead or Alive by NetEnt
Book of Ra by Novomatic
Immortal Romance by Microgaming
Thunderstruck II by Microgaming
Medium volatility slots
Most slots available online fall in the medium variance category. Despite being the majority, they are difficult to define. There's no exact figure that shows whether a slot is medium in volatility, therefore many games can be considered to have medium volatility.
High variance slots provide bigger rewards but come with more risks. Low variance slots are safer and provide frequent wins. Medium-variance games don't come with a lot of risks but, at the same time, offer decent winnings.
Games in the medium-variance category are difficult to predict; analysing their performance is difficult. They balance perfectly your payouts and winning frequency.
Gaming titles with medium variance suits casual gamblers who necessarily don't have a lot of money for high-variance slots, but can accommodate more risks than low-volatility slots fans.
Compared to the thrill that comes with high volatility slot machines, medium slot machines might lack a bit of character. But if you enjoy some stability, then the medium-variance slots might be for you.
Occasionally you might get a huge win, unlike low volatility slot machines, so you always have something that keeps you going. Keep in mind, though, that they're not the most suitable if you're looking to boost your bankroll significantly.
Some of the most popular medium variance slot games include:
Koi Princess by NetEnt
Captain's Treasure by Playtech
Golden Ticket (PlayN' Go)
Game of Thrones by Microgaming
Slot machine volatility calculation
Calculating a slot machine's variance isn't difficult if you know the values attached to each symbol combination. This is only possible in theory, though. In reality, determining a slot's volatility requires complex mathematical equations, and it might take you a lot of time to crack the code.
Slot games normally have index ratings that show their level of volatility, but software developers don't display this information to players. In some occasions, though, developers display the calculations on their PAR sheets.
Luckily, there are other easier ways you can find out a machine's volatility. You can do the following:
Playing the slot games
The easiest way to measure a game's volatility is by playing it. Demo versions often have the same volatility as the exact games. That's why you should always first try out the game for free, weigh its variance, and decide whether you're ready to risk your money on the game.
Ensure you play various rounds of the game to get accurate results. You can keep track of your results and how often you get wins. Also, record the payouts of the different bonuses you receive.'
As you've probably realized by now, this approach can consume a lot of time and might get tiresome after some time.
Check the game's paytable
You can find the paytables of various slot machines on the "INFO" page in the brand new slot sites. The values normally vary, and can be high or low, depending on the amount of money wagered — some values may also remain unchanged. Games that offer large winning amounts may space these values out, and the opposite may be true for low-paying slots.
You can determine the volatility by analysing the difference between payouts in a payline of 5 similar symbols and 4 similar symbols. Low-variance slots tend to bear a difference that ranges from 3 to 4 times. Medium-variance slots have a 5 to 10 times difference. And high-variance slots normally have a 10-15 times difference.
Bonus frequency
In casino gaming, slots usually boast of many bonus features. This is because they're in-depth and feature a lot of randomnesses. Slots with more bonuses tend to have a lower win frequency, and the opposite is also true. Sometimes, the bonuses are usually a boost to your winnings and you don't have to place any bets to get them.
What this means is that with more bonuses associated with a casino game, you can expect a higher chance of winning more money than you originally wagered. The amount of the bonus you receive also determines how frequently a bet lands. If a slot game offers an extra round of spins for free, you're more likely to win some money with one spin rather than 15.
Wilds usually are the most popular type of hit rewards because they help in completing winning combos. Multipliers and bonus spins also help in determining a slot's variance.
Analyse a game's RTP rate
Game suppliers often display RTP rates publicly, so you can use them to get an idea of a game's volatility and determine how much you can get in winning. Developers determine a slot's RTP after analysing it for a long time and can do so for even thousands of rounds.
Calculating these percentages for such long periods often lead to accurate results. But you shouldn't put all your trust in these predictions, because at the end of the day, they're still predictions. That said, you can use them as a benchmark to find out your expected payouts.
As a rule of thumb, slot games with higher RTPs often provide better chances of winning and hence lower variance. In the same vein, slot machines with low RTP rates have higher variance, as they a lot of risks attached to them.
Game developers
Certain game developers are known for specializing in games with specific variance levels. You can easily check for a slot machine's developer and get a vague idea of the amount of volatility. Developers like Microgaming and NetEnt, for instance, are synonymous for designing high-volatility slots.
Conclusion
Now that you have learnt what slot variance is, and its influence on your gambling, it's time to decide the most suitable slots type for you. This goes down to your preferences.
If you don't like risks, them playing low-variance games is most likely your best option. Note that you'll be getting small wins, and you'll rarely lose. The problem is that you won't get a larger-than-life account balance. Also, if you want to place high wagers in a short time, then low-variance slots might be ideal.
Medium-variance slots are ideal if you're of type of players who already knows the amount they want to bet with, and have divided their bankroll into suitable chunks. You can take advantage of these slots more, as you'll be able to discover what side of the scale your medium-variance slot slants toward, using your results.
High-variance games favour players with huge bankrolls. When playing high-variance slots, you'll most likely have a run of consecutive losses, and you'll need a sizeable balance to get you through these difficult time. Anything above 200 spins is ideal, as it will keep you going for a long time. Remember to have fun, and don't let your emotions control your betting. Emotions can take over you when you're on a losing streak, and you can easily lose all your money in such times.
If you haven't made your decision yet, you can check the demos of various slot games and have a crack at them — it won't cost you a dime. From your experience, you can then decide on what works best for you.
FAQ